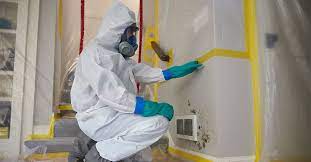 Professional Mold Remediation: When, Why, and How to Choose Experts
Mold is more than just an unsightly nuisance—it poses potential health risks. While minor mold problems can often be tackled DIY-style, larger outbreaks or hard-to-reach mold calls for professional intervention. Let's dive into the intricacies of hiring expert mold remediation services.
1. When to Hire Professionals
Extent of Mold: If mold covers an area larger than ten square feet, it's best to consult a professional.
Hidden Mold: Mold lurking inside walls, ceilings, or HVAC systems requires expert attention.
Health Concerns: Individuals with respiratory conditions, allergies, or weakened immune systems should avoid DIY mold removal.
Recurring Mold: If you've tackled mold but it keeps returning, you need professional help to identify and address the root cause.
2. Choosing the Right Mold Remediation Company
Certifications: Seek companies with reputable certifications. Our Certified Mold Remediation Technician (CMRT) course at IAQCert.com is an example of the kind of training professionals should have.
Reviews and References: Always check customer reviews and ask for references to gauge a company's credibility.
Insurance: Ensure the company has liability insurance to protect against any potential damages during the remediation process.
Estimate and Contract: Obtain a written estimate, and never proceed without a signed contract detailing the scope of work, costs, and timeframes.
3. The Professional Mold Remediation Process
Assessment: Experts will inspect the property using advanced tools to determine the extent of mold damage.
Containment: The affected area will be sealed off to prevent mold spores from spreading during the removal process.
Filtration: HEPA filters will be used to clean the air of mold spores and other particles.
Removal: Infested materials like drywall or carpet may be discarded. Remaining surfaces will be cleaned using specialized methods.
Restoration: Post-remediation, the team will repair or replace materials removed during the cleaning process, restoring your space to its original state.
Prevention: The company will provide guidelines to ensure mold doesn't return.
External Resource
For a deeper dive into the standards and guidelines for mold remediation, the U.S. Environmental Protection Agency (EPA) offers valuable insights.
Conclusion
Professional mold remediation services are crucial for tackling significant mold outbreaks or complex situations. By understanding when to seek expert assistance, how to choose the right service provider, and knowing what to expect, homeowners can ensure a safe and mold-free environment.